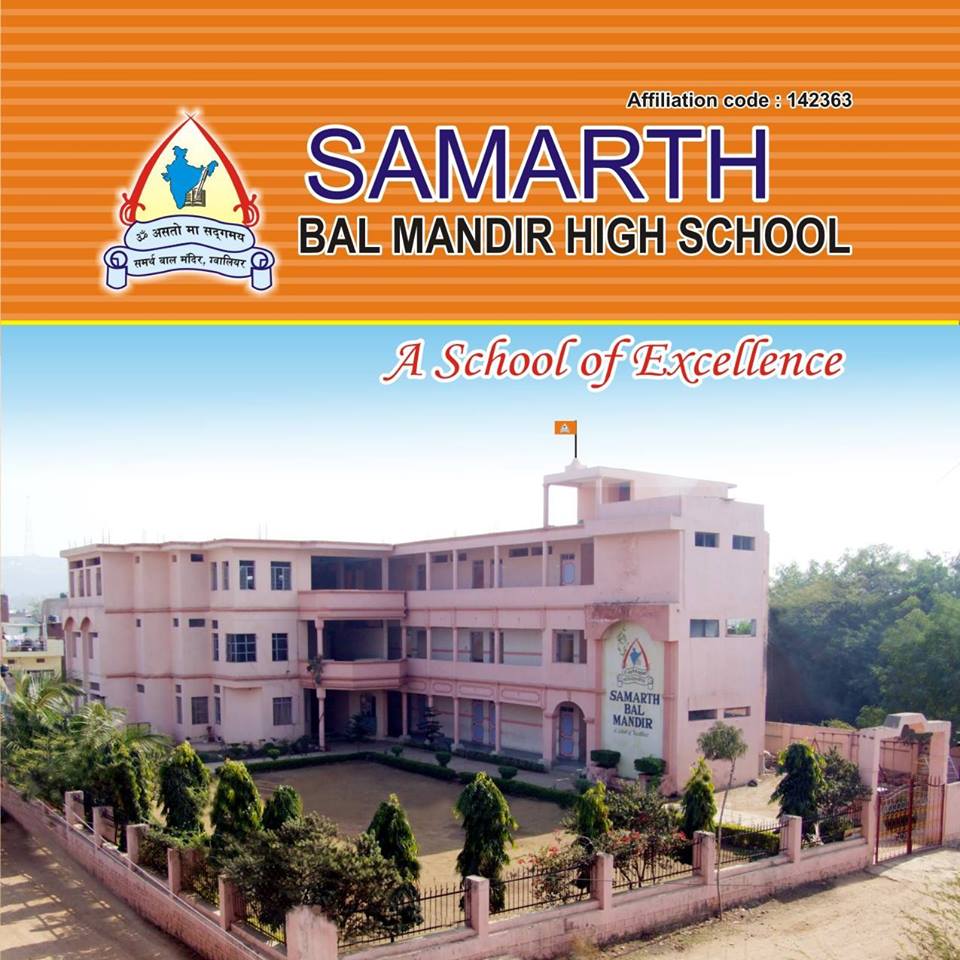 Parents can deposit online fees from Play Group to Tenth Class. Our Bank details as bellow mentioned :-
A/c Holder Name : SAMARTH BAL MANDIR HIGH SCHOOL
A/c Number : 917010084052270
Bank Name : AXIS BANK
IFSC CODE : UTIB0002658
BRANCH : TRANSPORT NAGAR
****************
INTRODUCTION ABOUT SCHOOL
Striving towards excellence and committed to Quality Education, the SAMARTH BAL MANDIR was established in Gwalior in the year 1993 and has been running successfully over the years.
SAMARTH BAL MANDIR is a modern co-educational English Medium School run / managed by SAMARTH BHARTI SHIKSHA SAMITI, Gwalior.
The school is located at Branch-1 :Jiwaji Ganj Lashkar, Gwalior and Branch -2 : Block-A Anand Nagar, Bahodapur, Lashkar, Gwalior (M.P.)
Imaginatively designed and aesthetically constructed, the school campus is complete in itself being well equipped with ultra modern maths lab, computer lab, music , dance, and art rooms,fun zone, indoor games area, big ground with colourful play equipments, Karate Classess,Swimming Classes. spacious Assembly hall, an auditorium & a big multipurpose activity hall. The school encompasses a wide area in serving the academic and co-curricular interests to boys & girls from classes Nursery to Class - II, under M.P. Board Affiliation No. 142363 in an amiable conducive environment, providing opportunities to develop them into confident and capable individuals, having courage and positive attitude.
SAMARTH BAL MANDIR believes in all aspects of development - Physical, Intellectual, social and emotional with utmost care and personal attention that the child needs at this tender age. Now it has stepped in its 23th year of journey shading under it the holistic growth of children as responsible citizens . Education here aims at the all round development , physical , social and aesthetic. Teaching here is a joy.


Parents can deposit online fees from Eleventh Class to Twelveth Class. Our Bank details as bellow mentioned :-




A/c Name : SAMARTH BAL MANDIR HIGHER SECONDARY SCHOOL

A/c Number : 920010050192346

Bank Name : AXIS BANK

IFSC CODE : UTIB0002658

BRANCH : TRANSPORT NAGAR